Fine bubble disc diffusers serve as a critical part of many wastewater treatment systems, providing important aeration for a functioning wastewater treatment process. SSI Aeration, Inc. prides itself on offering the best wastewater treatment diffusers concerning engineering, quality and design efficiency.
Some wastewater treatment systems may require customized components that are somewhat different from the industry standard. SSI Aeration, Inc. strives to supply these systems. For example, some systems require cost considerations and the need to cover a larger active surface area. To accommodate these systems, SSI Aeration, Inc. is a reliable 20-inch fine bubble disc diffuser supplier.
The 20-inch fine bubble disc diffuser should be sufficient for most large wastewater treatment system needs. Companies can enjoy maximum oxygenation efficiency with minimal head loss from the closer placement possible with disc diffusers over plate diffusers, which limits spiral flow.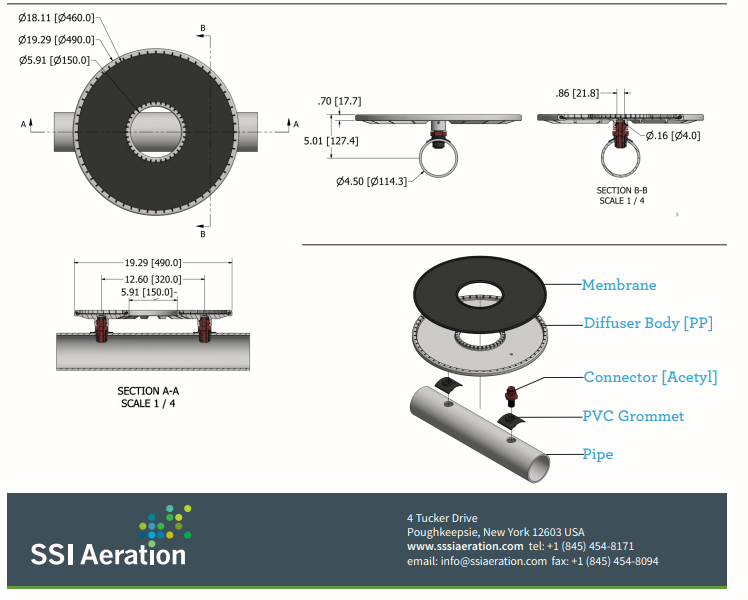 Further Customization for SSI 20-Inch Disc Fine Bubble Disc Diffusers for Sale
In addition to accommodating your needs for larger diffusers, SSI Aeration, Inc. can provide diffusers that attach to all major pipe materials, including stainless steel, PP, PVC and CPVC. We can provide a retrievable system or fixed grid for assembly.
SSI can attach 20-inch fine bubble disc diffusers to pipes, saddles or grommets, as companies can order grommet mounted or saddle mounted diffusers. Precise fitting is critical for fully optimized bubble disc diffusers, and the SSI team will go above and beyond to accommodate customers' individual needs when it comes to bubble disc selection and installation.
Industry Applications for the 20-Inch Fine Bubble Disc Diffuser
Operations ranging from actual wastewater treatment facilities to factories and industrial plants that process their own wastewater use SSI Aeration, Inc.'s fine bubble disc diffusers. SSI Aeration, Inc. clients include:
OEMs: Original equipment manufacturers frequently include SSI Aeration's fine bubble disc diffusers to enhance their product offerings.
Design engineers: SSI's fine bubble disc diffusers are a popular choice for those designing new wastewater treatment systems.
Wastewater treatment plants: Treatment plants looking to buy directly from the manufacturer turn to SSI.
Distributors: We work with many product distributors looking to offer quality aeration products.
Reach out to SSI's knowledgeable team to discuss the best options for every type of industry.
Buy 20-Inch Fine Bubble Disc Diffusers Today
Fine bubble disc diffusers are one of the most effective aeration components for a wastewater treatment system, and SSI Aeration, Inc. supplies the most effective options. SSI has a long-standing record of providing high-quality aeration products dating back over 20 years. When you need a fine bubble disc diffuser, SSI Aeration, Inc. is the obvious choice.
To find out more about 20-inch fine bubble disc diffusers and for a free quote on your order, contact SSI Aeration, Inc. today.
Download PDF Here